MenCare Health Check Programme
Choose a life of strength
Professional health assessment
Customisable and Fit-For-You
Holistic care approach
MenCare Health Check Programme, managed and administered by our professional medical team, is a customisable check-up programme dedicated to all men, aiming at the holistic wellness of you and your family.
Making professional personal
Our medical team will conduct an in-depth analysis of your health condition, family medical history, health risk and many other factors, and propose a personalised check-up plan that fits you. We believe your check-up should be based on the "right fit" principle and avoid unnecessary procedures.
To help you make better and healthier decisions, your doctor will provide a thorough debrief of the check-up results, and provide advices and recommend follow-up actions if necessary.
With flexibility comes options
We offer 3 types of plans for men with different health needs. The opt-in items under the Health Plus Check-up Scheme allows you to customise and add on based on your doctor's recommendation, so your check-up always suits your needs.
The Care Flow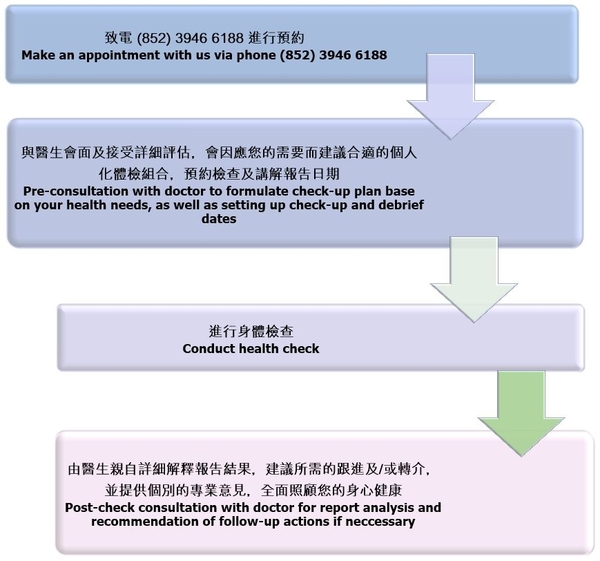 Plan Details and Fee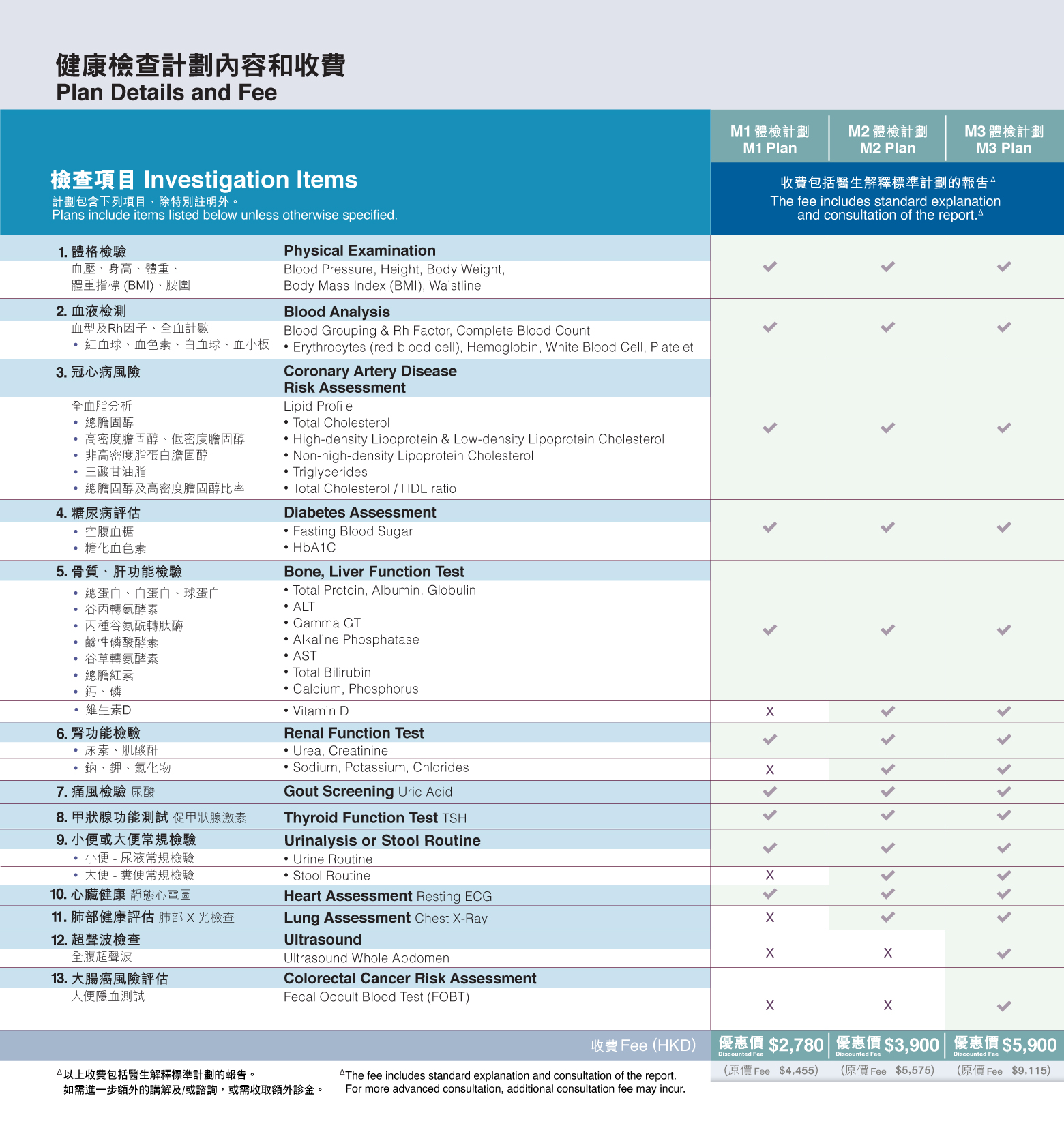 Health Plus Check-up Scheme
Health Plus 自選檢查項目
Check-up Scheme opt-in items

適用於M1-M3所有體檢計劃 Applicable to Plan M1 - M3

檢驗範疇
Investigation Categories

檢驗項目
Investigation Items

胃部 Stomach

幽門螺旋菌吹氣測試
C-Urea Breath Test

腸道 Intestinal Tract

大便隱血測試
Fecal Occult Blood Test (FOBT)

癌症 Cancer

甲種胚胎蛋白
Alpha Fetoprotein (AFP)

癌胚胎抗原
Carcinoembryonic Antigen (CEA)

艾巴氏病毒脫氧核糖核酸
EBV DNA

「血漿DNA」鼻咽癌篩查
Plasma Epstein-Barr Virus (EBV) DNA Screening
(Plasma EBV DNA Screening)

前列腺特異抗原
Prostate-Specific Antigen (PSA)

甲、乙型肝炎組合
Hepatitis A and B Combo

總甲型肝炎抗體
Hep A Antibody

乙型肝炎表面抗原
HBsAg

乙型肝炎表面抗體
HBsAb

骨質 Bone

維生素 D Vitamin D

心臟 Heart

運動心電圖檢查
Treadmill Test

冠狀動脈電腦斷層造影 (鈣化評分)
CT-Coronary Angiogram (CTCA) with Calcium Scoring

冠狀動脈電腦斷層造影
CT-Coronary Angiogram (CTCA) without Calcium Scoring

心臟超音波檢查
Echocardiogram

24小時心電圖檢查
24-hour ECG (Holter) Monitoring

肺部 Lung

電腦掃描 - 低輻射量胸部篩檢
CT-Thorax Low Dose Screening

腹部 Abdomen

全腹部超聲波(包括盤腔)
Ultrasound Whole Abdomen (including Pelvis)

「Health Plus」自選檢查項目將不定期更新,詳情可向本中心的服務人員查詢。
Health Plus Check-up items will be updated from time to time. For details, please contact our service team.
For more information about the fees of radiology services, please refer to the links below:
Booking and enquiry: 3946 6188

11/F, Wellness Centre, CUHKMC
Important Information
Please dress comfortably on check-up day and avoid necklace or other metallic accessories.
Avoid staying up late, drinking or strenuous exercising the day before your check-up.
Please notify your doctor of any on-going use of medication such as hypertension, diabetes, and/or cardiovascular diseases.
In case fasting blood test is necessary for blood lipid or glucose level monitoring, patients should avoid eating or drinking for at least 8 hours prior.
Please notify the medical team prior to any blood draw if you have blood or needle phobia.
Please follow instructions from the medical team during your check-up. If you experience any discomfort, notify the team immediately.